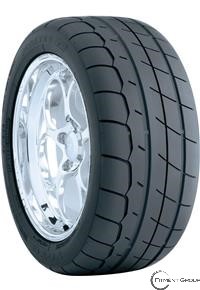 Tire Perks:
Ride Guarantee - 45 days/500miles
Price
---
---
Save $260 instantly on 4 tires
$65.00 off per tire. No minimum purchase.
(In store installation required)
with 6 months payment plan
See Out The Door Price
---
Description
"Toyo Tires Developed The Proxes Tq For Drag Racers Who Need A Tire To Deliver The Ultimate Performance On Street Machines And Muscle Cars. The Proxes Tq Is A Drag Racing Radial Tire Designed To Offer The Best Performance To- The- Track –and- Back While Delivering The Ultimate Racing Look And Traction. Similar To All Drag Racing Radial Tires, The Proxes Tq Should Never Be Driven On Roads That Are Very Wet With Standing Water Where The Risk Of Hydroplaning Is A Possibility, Or In Temperatures Close To Freezing, On Ice Or Through Snow. designed With A Combination Of Optimized Tread Pattern, Unique Tread Compound And Reinforced Radial Construction, The Proxes Tq Delivers Superior Grip, High-speed Stability And Straight-line Performance As The Driver Powers Down The Track. caution! The Proxes Tq Is A Dual-purpose Competition Tire Designed With A Special Tread Compound And Reduced Tread Depth For Optimum Traction In Dry Weather. Frequent Checking Of Tread Depth Is Necessary Because Like Other Competition Tires, The Proxes Tq Wears Out Quicker Than The Regular Passenger Tires Resulting In Less Wet Traction. The Proxes Tq Should Never Be Used On The Streets If The Tread Depth Is Worn Down To More Than 2/32nds Of An Inch. Reduce Speeds And Drive Cautiously In Wet Conditions With The Proxes Tq Fitted To Your Vehicle. molding A Drag Radial Tread Compound, The Proxes Tq Delivers Outstanding Grip During Launch. This Compound Is Shaped Into An Irregular Tread Design, With Two Different Tread Areas That Allow For Optimum Use On The Street And Track. Semi-slick Inboard Allows For Better Traction On Self-regulating Suspension Vehicles But Maintains Traction On Straight-axle Rear Suspension Vehicles. The Proxes Tq Has A Flexible Outboard Area That Deceases Pattern Noise During On-the-street Driving. the Internal Construction Of The Proxes Tq Features Drag Race Construction Having A Special Drag-race Radial Casing, Which Helps To Boost Performance During The Launch. This Feature Helps To Maintain A Large, Reliable Contact Patch For Grip During A Drag Run. The Size And Shape Of The Footprint Are Controlled By Matching High-tensile Steel Belts Secured With Spirally Covered Jointless Cap And Edge Layers. The Tire Is Secured To The Wheel By Jointless Beads While The Sidewall Is Stabilized With Slightly Angled Body Plies And High Modulus Bead Compound. toyo Recommends Some General Set-up Guidelines For Its Drag Racing Tires. The Recommended Guidelines For The Proxes Tq: begin With A 17 Psi Cold Tire Inflation Pressure. Change The Inflation Pressure Of The Tire Up Or Down In 1 Psi Increments To Reach The Preferred Results (never Use Below 15 Psi). As Much As Possible Use The Necessary Pressure For Track Conditions That Will Not Lead To The Slipping Of The Tire. Higher Inflation Pressures Lead To More Increased Reaction Time, Rolling Resistance And Stability. what Toyo Recommend For Drivers Who Have The Experience In Racing On Drag Radial Tires Is That There Should Be No Change In Their Burnout Procedure. We However Recommend A Burnout That Is Somewhat Longer Than Usual For The First Run. We Recommend Longer Burnout In Colder Temperatures On A Cold Track And A Shorter Burnout In Warmer Conditions. Be Aware That Long Burnouts Can Cause The Compound To Overheat Resulting In A Decline Of Tire Life Usage. remember: Before You Leave The Track Always Re-inflate The Tire To The Suggested Street Inflation Pressure. warning: Although Proxes Tq Radial Tires Meet Dot Requirements, They Should Never Be Driven In Wet Conditions Where There Is Standing Water And The Risk Of Hydroplaning Is A Possibility, Especially If The Tire Is Worn. They Should Never Be Stored, Driven Or Serviced In Temperatures Close To Or Below Freezing Or On Ice Or Through Snow. ."
Tire Perks
---
Ride Guarantee: 45 days/500miles
---
Specifications
| | |
| --- | --- |
| Wheel Diameter | 16 |
| Aspect Ratio | 50 |
| Section Width | 255 |
| Overall Diameter | 26.0394 |
| Weight | 27.7 lbs |
| Part Number | 172020 |
| Speed Rating | H |
| Load Index | 0 |
| | |
| --- | --- |
| UTQG | |
| Warranty | 0 Miles |
| Load Range | 0 |
| Tread Depth | |
| Max Load | 0 lbs |
| Max PSI | 0 |
| Revolutions per Mile | 774.52 |
| Country of Origin | N/A |
---
Customer Reviews
This tire has no reviews.
Be the first to leave a review!